Meet the Forum Leadership
The First Nations Forum leadership is comprised of a First Nations Co-Chair and Alternate Co-Chair who are selected by the members and work collaboratively with the Province's co-chair and alternate chair.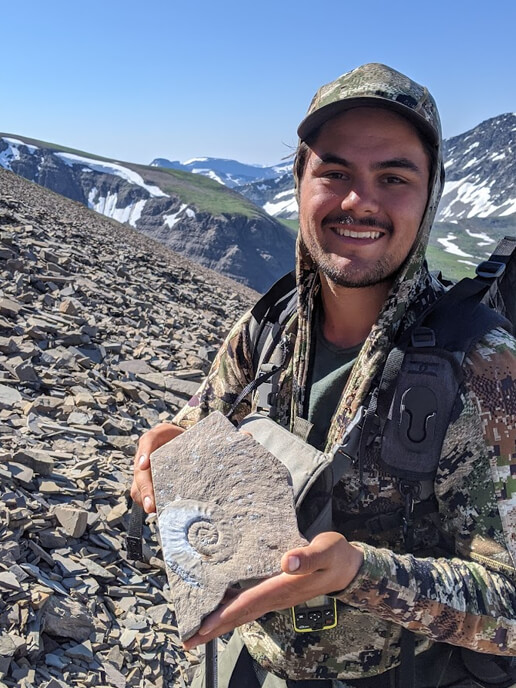 Hunter Lampreau
Hunter Lampreau is a member of the Secwepemc nation, Simpcw on his father's side and Neskonlith on his mother's side. Hunter is currently going to Thompson Rivers University working towards a Bachelor of Arts in Geography & Environmental Studies and is set to graduate in Winter 2020. From his mother's side, his kye7e or grandmother Mary Thomas Sr. gave him his traditional name of Peyecw7, meaning provider for his own. Growing up, Hunter spent time on the traditional territories of both sides of his family, and the ecologically diverse ancestral territory of these communities has given him the ability to connect to a vast landscape that has seen various impacts to wildlife & their habitat.
Connecting to these territories as an avid hunter, fisher, forager, and geology nerd has nurtured Hunter's passion to conserve either untouched, or heavily impacted ancestral lands and their inhabitants and has led him to an interest in environmental policy. Hunter currently works as the Wildlife Strategic Coordinator for Qwelminte Secwepemc.
Alongside this, he has been participating in the BC-FN Wildlife Forum since its initiation. This combined exposure has helped Hunter to rapidly build experience while Walking on Two Legs to best respect and work with both the western world & Indigenous world in wildlife conservation work.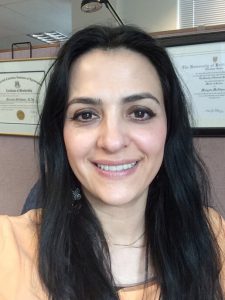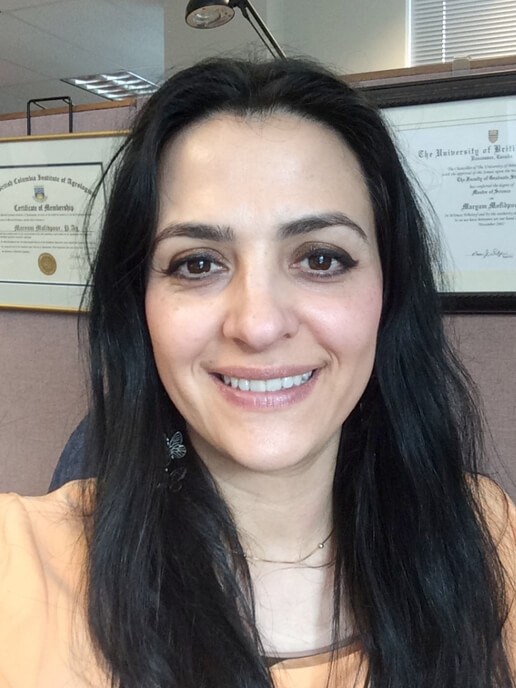 Maryam Mofidpoor
Maryam Mofidpoor has worked with the Forum since inception in 2018 as the forum project manager and the current Province's  Co-Chair. Maryam is passionate about working collaboratively with diverse groups and First Nations and seeks innovative ways to promote the Forum's work and vision. She is a P.Eng. (Professional Engineer), and a Senior Project Manager with the BC Ministry of Forests, Lands, Natural Resource Operations (FLNR). She works on implementation of the Together for Wildlife Strategy and other Resource Stewardship Division's initiatives. Prior to working for FLNR, she worked for Ministry of Environment and Climate Change on policy and regulation. In her volunteer capacity, Maryam served as Victoria and Island Councillor for BC Institute of Agrologists for two years, she is also a chair and project lead with International Standard Organization and leads international teams during the process of developing environmental standards.  She obtained her MSc in Soil Science from UBC in 2006, and received her Agricultural Engineering bachelor degree from Ferdowsi University in Mashhad, Iran in 1998. Maryam has worked as a consultant in Iran and Langley B.C. prior to becoming a public servant. She was born and raised in Iran and moved to Canada in 2003. Maryam and her husband have a 12-year-old son (Kia) who is a hockey and saxophone player and loves math, science and books. 
Cailyn Glasser
Cailyn's career as a senior wildlife biologist, resource manager, and liaison began with a Certificate in Advanced Geographic Information Systems (GIS) for Environmental Management from the University of Toronto. She later got her Bachelor of General Studies with Arts and Science Designation from Athabasca University with an Honours Thesis in Environmental Science and continued studying by obtaining a Master's in Environmental Practice from Royal Roads University in Victoria.
Currently Cailyn is working within the syilx Okanagan Territory as a Natural Resources Operations Biologist for the Okanagan Nation Alliance. She has been partnering with the Provincial and Federal government to develop projects and initiatives that support strategic approaches for implementation of UNDRIP and DRIPA as it relates to natural resource management in syilx Okanagan Territory. She also oversees the development and implementation of programs and projects, as well as the policies, and legislative or regulatory initiatives that have bearing on natural resource management. Her role also involves liaising with syilx Okanagan leadership on strategic natural resource management objectives.
Prior to her role with the Okanagan Nation Alliance, she worked as a Senior Ecologist & GIS Specialist with the Lands and Natural Resource Department of the Penticton Indian Band.
Past Co-Chairs 
Kate Hewitt is the Natural Resources Manager at the Northern Shuswap Tribal Council (NSTC), representing the Northern Secwepemc te Qelmucw (NStQ), meaning 'the Shuswap people of the north.' Located in Williams Lake, Kate works in collaboration with the four affiliated NStQ First Nations; Tsq'escen', Stswecem'c/Xgat'tem, Xats'ull/Cmetem', T'exelc (Canim Lake Indian Band, Canoe/Dog Creek Indian Band, Soda Creek Indian Band and the Williams Lake First Nation), as part of the larger Shuswap Nation, to promote stronger participation in the management of natural resources within the Secwepemcul'ecw. 
Kate was nominated for the 2020 B.C. Premier's Award for Participation as Co-Chair of the First Nations – B.C. Wildlife and Habitat Conservation Forum. Originally from Ontario, Kate is an Environmental Technologist with a focus on wildlife management and ecological restoration.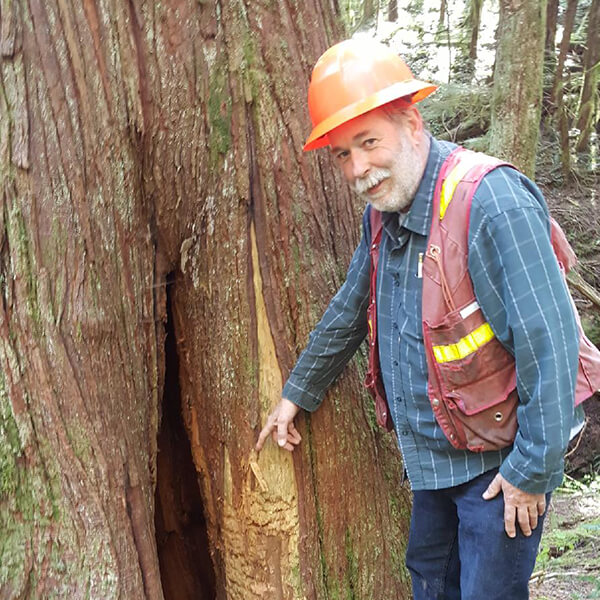 Ron was the Chair of the Maa-nulth Wildlife Council from 2011 to 2021 and is currently the Natural Resources Advisor to the First Nations of the Maa-nulth Treaty Society.  He is a member of the Ka:'yu:'k't'h'/Che: k'tles7et'h First Nations (KCFNs) on the West Coast of Vancouver Island and a long-time advocate of supporting the priority of exercising Section 35 harvesting rights and eating traditional foods. Ron believes strongly that these rights come along with the responsibility to 'take care' of wildlife and wildlife habitat. 
As Chair of the KCFNs Treaty implementation team Ron works collaboratively to develop, recommend and review KCFNs legislation.  He advocates for a strong collaborative approach to moving forward, including the 'roundtable' approach to looking after wildlife, wildlife habitat and people. 
It was a privilege for Ron, a practicing Professional Forester in the Province of B.C., to be selected to act as Co-Chair of the Wildlife Forum until early 2020.  Ron enjoyed the opportunity and the challenges and proud of the accomplishments of the Forum while he was co-chair with Kate Hewitt.
Lisa Helmer (2020-2022)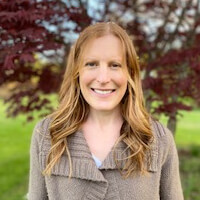 Lisa Helmer leads the Collaborative Stewardship Framework for the Province of BC, and is a past Co-Chair of the First Nations- BC Wildlife and Habitat Conservation Forum. Lisa joined the BC Team in 2006 as Head of Biological and Evaluation Services with the Habitat Conservation Trust Foundation (HCTF).  Her time at HCTF provided an opportunity to understand the complex nature of fish & wildlife management in BC.  Lisa was Director of Strategic Initiatives with FLNRO Skeena Region 2016-2019, where she led the Environmental Stewardship Initiative (ESI). Lisa has been working in collaboration with Indigenous Communities since her first summer field job as a Fish & Wildlife Technician under Forest Renewal BC in 1995, conducting watershed assessments with Lil'Wat Nation. 
Lisa ran her private consulting company out of Pemberton BC through the 2000's, working with Department of Fisheries & Oceans (DFO), local/regional governments in the Sea to Sky Region, the Resort Municipality of Whistler, the BC Wildlife Federation, the Creston Valley Wildlife Management Area, and the BC Conservation Corps in the Skeena.  She continues to look for new and innovative ways to empower local people to be powerful stewards of local resources.  She is a fifth-generation potato farmer from the Pemberton Valley, holds a BSc. (Fish & Wildlife Management) from UNBC, has two kids (Maggie 12, Angus 10) who love to roam the outdoors and play music, and a timber framing, windsurfing husband. 
Youth Interns
Peyton Anderson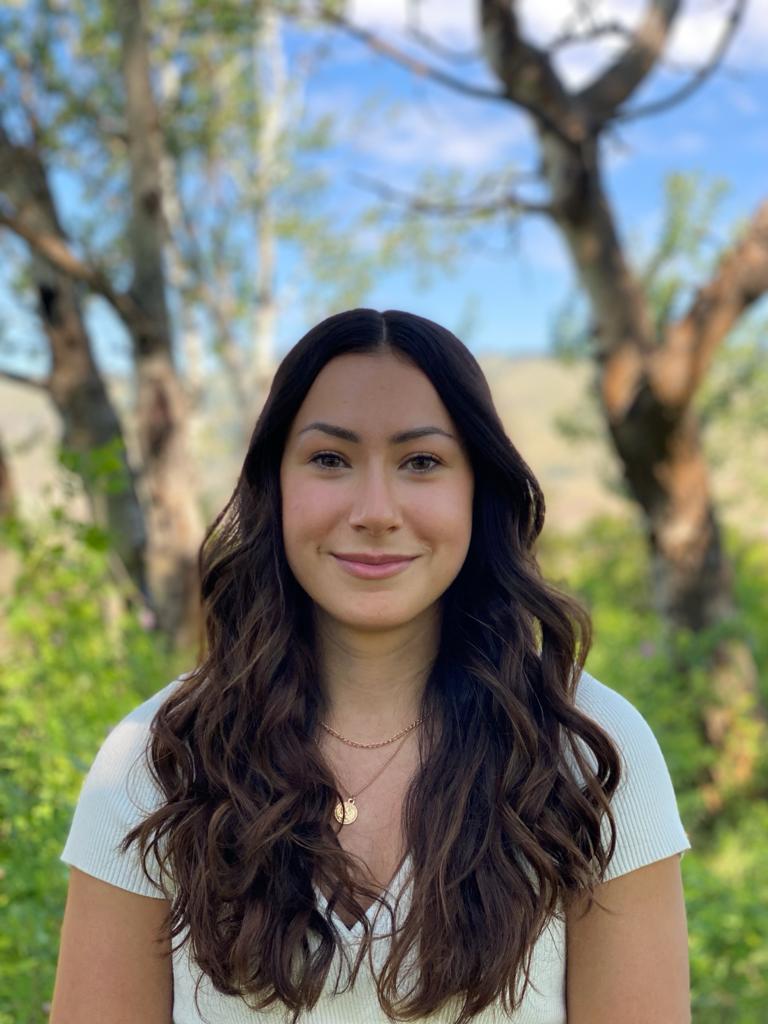 Peyton Anderson is a member of the Nuxalk Nation from Bella Coola on her mother's side, and of Scottish descent on her father's. She has just completed her Bachelor of Arts in International Relations at the University of British Columbia, and will be attending the University of Toronto to continue her graduate studies at the Master's level in Political Science in 2022. Her schooling generally involves understanding how States interact in the international sphere, and she finds that working with the BC-FN Wildlife Forum has allowed her to take the same concepts used in International Relations and apply them to interactions at the Forum between various Nations and BC.
Peyton joined the Forum in September as an intern from Qwelminte Sécwepemc, working alongside Hunter Lampreau, to develop the Indigenous Knowledge in Wildlife Act Decisions Policy. This policy endeavors to set guiding principles and values surrounding the use of Indigenous Knowledge during consultations and collaborations between Nations and BC. From this, there was an identified need for an additional Shared Decision-Making Policy to allow for proper execution of the Indigenous Knowledge Policy. Peyton and Hunter have been working closely with the Forum to engage in dialogue and develop mutual understandings, for the purpose of developing the Shared Decision-Making Policy in the most collaborative way possible.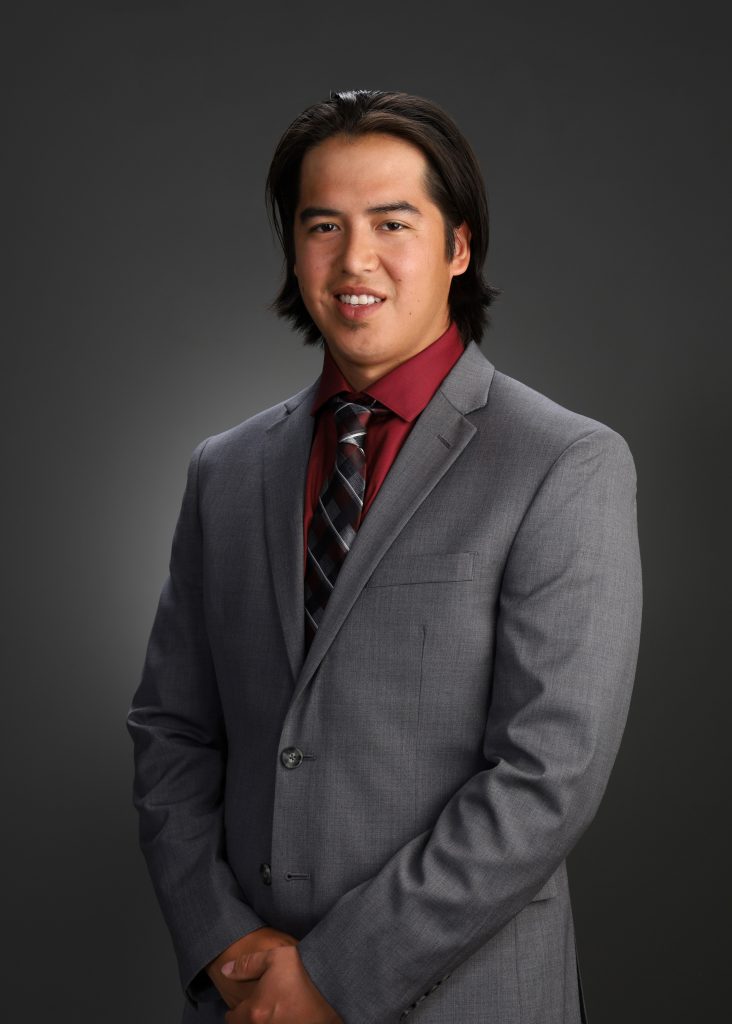 Jared Davis
Jahenijah
My name is Jared Davis and I am an active Treaty 8 member from Blueberry River First Nation. I always had two homes. I was raised in Central Alberta area near Ponoka and eventually moved to Blueberry River. I have a degree in BA of Native Studies from the University of Alberta. I committed to my education out of high school because I like to learn about the spaces we occupy and why we are the way we are. Understanding our history is critical to understanding ourselves, where we come from and what our ancestors did to get us here. Passing on culture and tradition to the next generation is very important to me. Understanding that our culture and traditions are always evolving is key to my approach. I was fortunate to get a job in the BC public service after I graduated and worked closely with the COS (Conservation Officer Service) in the peace region. This brought a wealth of experience by getting me familiar with hunting and fishing laws that have an impact on our Indigenous communities. I was able to provide Chronic Wasting Disease training to Indigenous harvesters to promote ungulate health awareness and encourage sampling testing for the safe consumption of harvested wildlife in Treaty 8 Nations in North East BC. Furthermore, I was able to participate in geographical familiarization within my traditional territory. I enjoy seeing the land and taking in the visuals that constantly change. Ultimately, my working knowledge on how to protect Indigenous knowledge has grown immensely. As a result, I feel prepared for the implementation of meaningful relationship building. I'm ecstatic to bring a combination of my education and experience to the Ministry of Lands, Forests, and Natural Resource Operations and rural development. Overall, I look forward to continuing my journey building relationships with Indigenous communities and the Provincial government.