What We Do
Advising on Indigenous perspectives for wildlife and habitat stewardship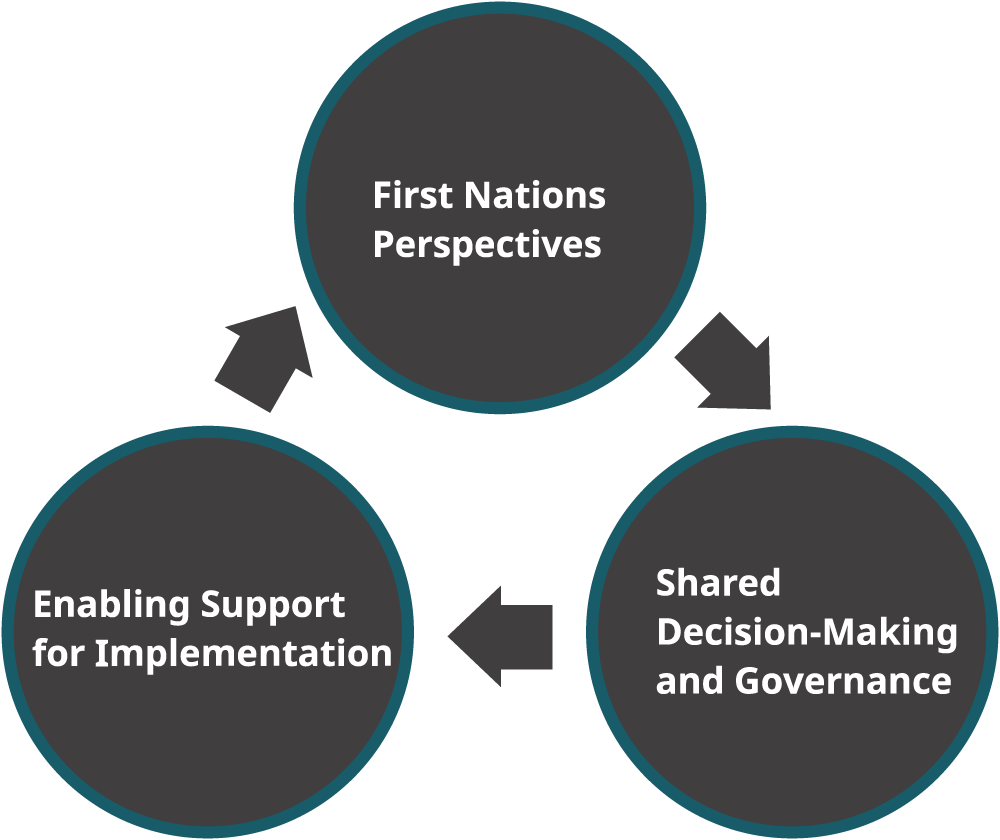 Communicate and Educate on Indigenous perspectives
In the First Nations territories of British Columbia, Indigenous Peoples' relationships with wildlife are best articulated in terms of stewardship and reciprocity, including concepts of interconnectedness, interdependence and an understanding of the Earth as our Mother. Along with these commonly shared worldviews, many First Nations in BC have unique ways of stewarding wildlife that must be respected and accepted along with their role as co-management partners in the development and implementation of the Together for Wildlife strategy. Understanding these perspectives is key to ensuring the strategy moves beyond Western-based approaches to wildlife 'management' towards stewardship that considers the needs of future generations. It is essential that BC's governments, stakeholders and the general public better understand these approaches in order to inform policies and strategies regarding wildlife and habitat stewardship that align with 21st century values.
Working Groups
Achievements to Date
Wrote background document "Cultivating Abundance (2018/2019 – 900KB PDF)", a discussion paper summarizing perspectives and aspirations
Review of the Provincial Grizzly Bear Stewardship Framework and inclusion of Indigenous perspectives
Review of the Provincial Thinhorn Sheep Management Plan and inclusion of Indigenous perspective
Related Resources
Advance Reconciliation with Indigenous Governments
The Forum provides advice and recommendations to the Province to fulfill Goal 5 of the Together for Wildlife strategy which states "Collaborative wildlife stewardship advances reconciliation with Indigenous governments." The Forum facilitates this through the process of Ethical Space, where Indigenous and non-Indigenous governments collaboratively develop protocols framed by pre-existing treaties, other agreements, and inherent Indigenous rights. Within the Ethical Space framework, multiple knowledge systems and multiple layers of jurisdiction co-exist in a co-management framework. This approach changes the narrative to include the aspirations of First Nations members to support B.C.'s shift to co-management with trust and mutual respect. The role of the Forum itself is advisory, so its work does not substitute for the Province's constitutional duty to consult with all First Nations governments in British Columbia regarding any legislative changes or policy solutions.
Working Groups
Achievements to Date
Co-development of a proposal for Wildlife Act amendments that aims to advance reconciliation with Indigenous peoples in British Columbia in collaboration with the Province (2018/2019). The Wildlife Act has not changed since 1966 to address First Nations legal, political or policy advancements
The amendments are tentatively scheduled for introduction in the Legislature in Spring 2022
Drafted the Shared Decision Making policy manual that serves as a guiding document for government staff
Related Resources
Co-management of Wildlife and Habitat
A priority goal for First Nations forum participants is to support movement towards long-term co-management and stewardship of wildlife and habitat in BC that is acknowledged and accepted as such by Indigenous governments and the Province. As co-management partners, Indigenous and Crown governments will define the scope, mandate, and functions of the co-management arrangements to be used.
This co-management is predicated on the integration of Indigenous knowledge systems and practices for stewarding complex ecosystems with Western scientific research. Many studies have shown that integration is vital for sound policymaking as the use of both knowledge systems provides the bases for better planning and stewardship approaches while eliminating some of the limitations inherent in Western science, such as compartmentalization and limited time horizons.
Working Groups
Achievements to Date
Input to Together for Wildlife Strategy (2018/2019)
Cultivating Abundance (2018/2019 – 900KB
Co-develop proposal for Wildlife Act amendments (2018/2019)
Drafted Indigenous Knowledge policy to support the Indigenous Knowledge amendment of the Wildlife Act
Related Resources
Implement the Together for Wildlife Strategy
Together for Wildlife sets the direction for wildlife and habitat conservation in British Columbia from 2020 to 2030. First Nations forum participants established principles to guide the ongoing collaborative implementation of the strategy through principles including co-management and shared decision-making with Indigenous governments, communication and education of Indigenous worldviews and approaches to stewardship, and resource capacity building for Indigenous governments to participate in all aspects of wildlife stewardship. Implementing the strategy includes building trust with First Nations and Indigenous people who live in the Province to co-manage wildlife and habitat ecosystems, and supporting this work by building capacity within Indigenous governments for shared decision-making and wildlife and habitat stewardship.
Working Groups
Achievements to Date
Input to Together for Wildlife Strategy (2018/2019)
Co-develop proposal for Wildlife Act amendments (2018/2019)
Cultivating Abundance (2018/2019 – 900KB PDF)
Forum Working Groups (2019/2020)
Regional Wildlife Advisory Committees (RWACs) T4W Action 2
Proposal for potential Joint Working Groups between First Nation Forum, PHTAT and MWAC to inform and facilitate the work of the RWACs
Related Resources
Collaborate with Us
Do you have questions or feedback related to the work of the BC-First Nations Forum for Wildlife and Habitat Conservation?